Wyoming is home to more than 600 species of wildlife, including many that have vanished from other regions of the country. The Big Horn Mountains region of Wyoming is populated by many of these species of wildlife.

Big game wildlife in the area includes Mule Deer, White-tail Deer, Elk, Moose, and Pronghorn Antelope. Black Bears, Mountain Lions and Coyotes also make their home in the Bighorn Mountains and Bighorn National Forest. Birds include Wild Turkeys, Bald and Golden Eagles, Sage Grouse, Ruffed Grouse, Ring-Necked Pheasants, and several species of Falcon.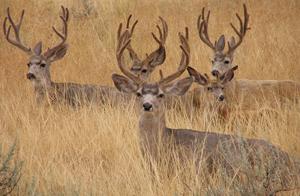 Mule Deer are one of the many species of wildlife in the Big Horn Mountains region.