BigHornMountains.Com, LLC is a business based in Buffalo, Wyoming which is dedicated to promoting tourism in the beautiful Big Horn Mountains and Bighorn National Forest region of the State of Wyoming. We have built this web site to provide a central resource of information related to the Big Horn Mountains region. The site includes useful information for visitors, vacationers, those who are contemplating relocation to the area as well as local residents.

We also design and develop affordable, quality web sites for businesses and organizations through our company Bighorn Web Design. Because we are a local company, we are also close by to assist you with your web site problems and needs. We can accommodate all of your web needs including development, hosting and updates. E-mail us at info@bighornweb.com for more information or give us a call at (307) 217-0056.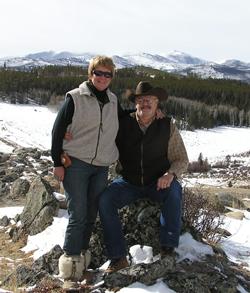 Rob Yingling, Owner/Webmaster & wife Lisa
BigHornMountains.Com
Bighorn Web Design
Wild Wyoming Images
Each year, many visitors to the State of Wyoming begin their vacation planning by searching the World-wide Web for information about the areas they plan to visit. Therefore, we feel it is important that businesses and organizations who depend on tourism have a good web site to promote themselves. If you are unsure of what a web site can do for your business or organization, call or e-mail us to schedule a FREE consultation. We'll be glad to help!

For more information about our services, please select from the links below.