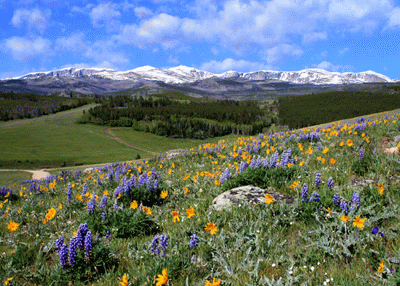 The Big Horn Mountains extend from the plains and Great Basin area of Wyoming northward into south central Montana.
The Big Horn Mountains and Bighorn National Forest are an outdoor paradise filled with recreational opportunities including hunting, fishing, camping, hiking and backpacking, horseback riding, mountain biking, picnicking, sightseeing, photography, snowmobiling, skiing, and sledding.
The Bighorn National Forest, including the Cloud Peak Wilderness, is unique and diverse. Within the National Forest area, you can encounter grass prairies, evergreen forests, mountain meadows, rugged alpine peaks, dramatic canyons, arid desert lands, and cascading waterfalls - all within a day's journey.
There are several scenic byways which pass through the Bighorn National Forest, all of which provide the traveler with scenic views. The Bighorn Scenic Byway (US 14) connects the cities of Sheridan and Greybull and includes 45 miles of scenic mountain driving. The Cloud Peak Skyway (US 16), connecting the city of Buffalo and the town of Tensleep, crosses the southern Bighorn National Forest and offers breathtaking views of snow-capped peaks along its 45 mile length. The Medicine Wheel Passage (US 14A) rises sharply from the Bighorn Basin near the city of Lovell and travels 25 miles through high alpine meadows to Burgess Junction, where it intersects with the Bighorn Scenic Byway. This route also boasts the largest ancient Medicine Wheel site in North America.
Explore our web site and advertisers and see what Wyoming's beautiful Big Horns have to offer you.
Are the Big Horn Mountains and the Bighorn National Forest the place for you to experience an exciting, relaxing, and stress-free vacation? As we say in Wyoming: "You Bet!"



Help keep America strong and united. Display our nation's flag proudly!